Solutions for Mining, Oil, and Gas


Connected Like Never Before
TAIT AXIOM Mobiles supercharges the performance of your mobile radios by loading them with greater computing power, WiFi, wireless broadband, and more. Increase productivity in your Mining or Oil & Gas operation with greater connectivity, powerful new applications, and comprehensive APIs.

Manage your Radio Fleet with Ease
Tait EnableFleet gives network managers complete visibility and management of your entire Mining or Oil & Gas radio fleet from one central point. By knowing the status of your entire network in real-time, you're able to efficiently ensure consistent configuration and updates, right from your desk.

Location Services
Tait radios are an integral part of multiple location solutions, allowing your management team to know the exact location of workers, assets, and events across your network. If an unplanned event occurs, location applications will allow you to pinpoint the nearest qualified worker to accelerate response and reduce repair times.

Get to know your network
Tait EnableInsight monitors your radio network in real time, delivering immediate visibility and a range of reporting options. Stay aware of issues on your network at all times, so you can continually optimize operations and proactively solve issues before they become major problems.

IT Integration and Application Partners
Tait solutions can be integrated with your current Information Technology networks. Our solution is open, using the Internet protocol (TCP/IP), consistent with your own networks. Tait has a number of partners with off the shelf applications, and developed APIs to enable the range of partners and applications to grow.

"The Tait solution has provided greater flexibility and options with the new system. It has opened up future opportunities that we didn't have with the previous system."

Call availability
The safety of each worker depends on their ability to make and receive calls without delay when required. Tait services will work to ensure you have the maximum coverage in your area. Tait DMR and P25 networks are designed with multiple levels of redundancy to ensure maximum system uptime and include call availability features such as emergency calls, call priority, call timers and call queuing.



Call clarity
Your workers need more than just reliable voice calls to keep them safe - they need a radio system that delivers market-leading call clarity. Our advanced radio technology provides better noise rejection, and preserves voice quality to the edge of coverage. When emergencies occur, improved call clarity will buy your workforce precious seconds to respond.

Arrive faster
Location based services allow your management team to know the precise location of workers and assets. If someone gets hurt, you will know exactly where to send help. The new location-based business applications also provide location-specific warnings and vital information during emergencies, keeping workers out of harm's way.

Physiological Monitoring
Tait portables are equipped with Man Down and GPS. Should an accident occur, dispatch will receive an alert and can send help immediately to the right location. Tait BioLink is an even more advanced physiological monitoring solution sends alerts related to changes in body position, temperature, or heart rate over your Tait radio network. Physiological Monitoring means your people will receive critical help faster, saving lives.
Featured Client Story
ConsMin Woodie Woodie Mine Pilbara - WA Australia
ConsMin Australia is a high-grade producer of manganese ore at the Woodie Woodie mine operation. Manganese is mainly used in the production of steel. The Woodie Woodie mine is a 24-hour, seven-day operation and runs with a crew of 400 on site at any time.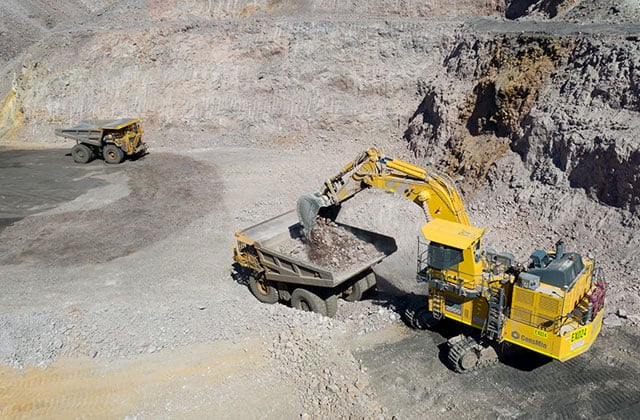 Migration Solutions
Radio system owners in mining, oil & gas need confidence that system upgrades will be completed smoothly, on time, on budget and without disruption to system availability. The Tait platforms are engineered to ensure smooth and seamless migration from your existing radio solution – with your critical communications uninterrupted.

True standards based technology
All Tait systems are designed to conform with the leading industry standards of P25, DMR, MPT, or conventional. If you have existing equipment you can have confidence that your new Tait system will deploy smoothly and will interoperate seamlessly with your equipment from other vendors built to the same standard.

Multimode Radios
Both Tait P25 and DMR radios are multi-mode. Our portables, mobiles, and base stations are capable of operating immediately on your old analog radio system and then moving onto your new network as it is activated. Multi-mode capability adds enormous flexibility to the roll-out of the P25 and DMR equipment.

Support for legacy equipment interfaces
Tait provides support for a wide range of legacy interfaces that can be used to connect existing third party equipment such as dispatch consoles, voice recorders, and applications to the new network. For a staged migration with continuity of service this is a vital aspect of managing cost and risk.

Tait Design and Delivery Services
The world-leading Tait services team are able to take full responsibility for the seamless transition of your radio system– from system and coverage design to deployment and system commissioning - leaving you to get on with what you do best. With nearly 50 years of experience, you can trust us to deliver a seamless, risk-free managed migration.

Operational security
Cyber-crime and terrorism are growing security challenges that resource organizations must address. The data communication network gives visibility, and sometimes even control to anyone with access. It is vital that these networks remain secure from outside listeners and influences.

Encryption for Secure Communications
All Tait platforms are built with security at their core. Tait DMR supports encryption and user authentication, access control for devices and users, and full logging of traffic and network access. The Tait P25 platform provides end-to-end, 256 bit AES encryption that is P25-compliant and FIPS (Federal Information Processing Standard) certified to prevent the unauthorized access of information.


Comprehensive access control
Security is a process, not just a feature, and Tait EnableProtect allows you to manage the security of your entire communications system. The EnableProtect Advanced System Key (ASK), Key Management Facility (KMF), and Key Fill Device (KFD) keep your network secure in a safe, efficient manor.

Secure networks
The latest Tait networks provides industry best practice security provisions by supporting secured HTTPS ports for web based configuration and management, VPN servers on the node controller and virus scanners on any equipment running a standard operating system. Tait network monitoring tools support SNMP v3.

Core Tait network security
Remote access to the core Tait network is only via IP connection which operates via Secure Shell (SSH) utilizing encrypted traffic between the client and the server and via the Dell iDrac which also utilizes encrypted traffic (HTTPS). Display and menus on the Tait base station can be disabled to prevent non-authorized changes to the base station by those physically on site.