Unlock the potential of your network
Tait Enable Suite
Tait Enable is a revolutionary suite of management tools that places the control of your radio network firmly in the palm of your hands.

Keeping track of your radio fleet can be an immense challenge. Who has each radio? When was the last firmware update? Is each piece of the network healthy and secure? How will you report the status of everything? Endless spreadsheets, meetings, car rides, and details surround radio managers.

But that was the past, and Tait Enable is the future. Tait Enable offers mission-critical organizations four unique tools to manage, monitor, protect, and report on your radio communications network.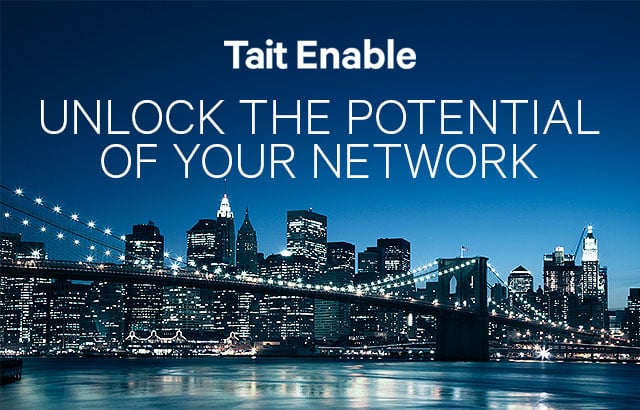 Explore our Tait Enable Management Tools
Management made easy
Tait EnableFleet
Get total visibility and management of your entire radio fleet from a central point of control. With Tait EnableFleet, you can configure and manage your fleet of mobile and portable radios from one location, ensuring consistent, accurate, and reliable results. Updates and installations are now faster and easier than ever before.
Overseeing your network health
Tait EnableMonitor
Be assured that your network is operating as expected and minimize impact if problems do occur with real-time monitoring. Tait EnableMonitor provides real-time status information about your network, including latency and packet loss, which enables you to quickly identify and resolve potential issues before they affect your communications system.
Know and manage your network performance
Tait EnableInsight
Have the confidence to know that your network is working optimally with simple easy to use access to real-time critical system measures and performance metrics. With Tait EnableInsight you can gain access to in-depth analysis and assistance in the diagnosis of incidents and problems with a clear dashboard style delivery.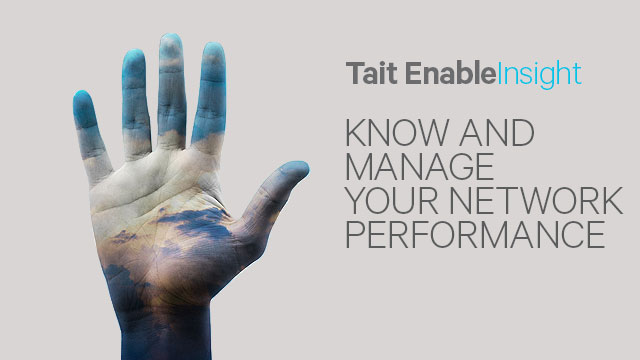 The smart way to stay secure
Tait EnableProtect
Control access to your network by letting the right people access the right information, and keep it out of the hands of the wrong people. With features like Advanced System Key, Key Management Facility, and Key Fill Device, Tait EnableProtect provides layers of security through authorization, authentication, and accountability. Efficient encryption and standards-compliant Over the Air Rekeying (OTAR) makes it easy to manage and update your fleet.
Why choose Tait Enable Management Tools?

Real-time information

Tait Enable tools provide you with real-time status displays, client-server updates, and monitoring to ensure that you are always optimizing and on top of the health of your network. Alarms and alerts notify you immediately when there is an issue, helping to reduce any interruptions to communications.


Simplified reporting

Tait Enable tools make it fast and easy to create and share reports customized to the needs of your organization. Having this accurate and reliable information ensures that you are always given the correct details to make important decisions regarding your network.


Ease of updating

With Tait Enable tools, you can easily deliver updates across your entire fleet using Over the Air Programming (OTAP). This eliminates the need for the radios to be physically present, and provides consistent installation results.


Security

The layers of security provided by Tait Enable tools give you confidence that no unauthorized users can interfere with your radio fleet. Security-enhancing features include pass keys, passwords, expiry dates, encryption, standards compliance, and different access levels, all through a secure, intuitive user interface.


Proof and paper trails

Reports created by Tait Enable offer your organization the peace of mind that comes with having the right information at the right time. Whether it's proving that your network is operating efficiently, reporting on your IT network availability and infrastructure, or simply providing proof of an important update during an audit, Tait Enable tools make it easy to collect, store, and call up this information when you need it.


Peace of mind

We help you ensure your network is in the best hands possible. With redundancy options for guaranteed performance and 24/7 support available, you can rely on Tait Enable tools to be there when you need them. With Tait EnableInsight, support tickets are even submitted automatically when there is an issue, eliminating the need for manual support requests.


Tait Enable Network Compatibility
P25
DMR
MPT-IP
Tait EnableMonitor
Tait EnableInsight

*

**

Tait EnableFleet
Tait EnableProtect Advanced System Key
Tait EnableProtect Key Fill Device
Tait EnableProtect Key Management Facility

* Trunked only

** DMR Tier 3 Trunked only
Discover more about Tait Enable Management Tools

Tait Enable Client Stories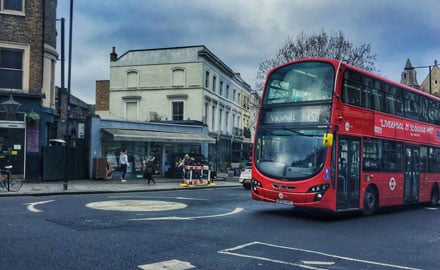 Transport for London
Transport for London (TfL) is one of the largest transport authorities in the world, with over 2 billion journeys made in their network each year. Since the early 2000s, Tait has provided communications solutions for Transport for London's surface fleet of around 9,300 buses, helping them keep Londoners moving.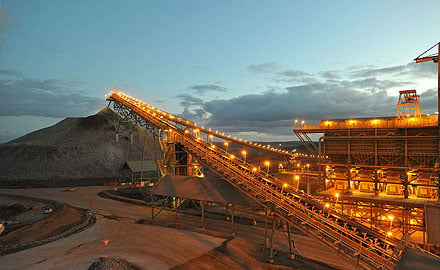 Newmont Goldcorp Boddington Gold Mine, WA, Australia
Tait EnableFleet provides centralized control and visibility of radio fleet programming, saving time and offering peace of mind.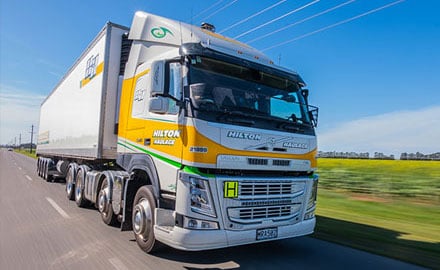 Hilton Haulage - New Zealand
Hilton Haulage, one of New Zealand's leading suppliers of transport and storage facilities, worked with local Tait dealer Ashley Communications to identify a suitable solution for their communication challenges. Several options were explored, but TAIT AXIOM Mobiles stood out as being the clear winner.