Solutions for Transport

Instant Voice
Effective communication is key to managing expectations and ensuring everyone is following the same schedule and plan. Should questions arise, you and your operators are only one button press away from clear communication over the mission-critical radio network. Thanks to Tait TeamPTT more people in your organization can be connected than ever before.

Automatic Vehicle Location
Thanks to Automatic Vehicle Location (AVL) data , dispatchers have constant and clear visibility of their fleet vehicles at all times. Location data can be sent directly to bus-stop arrival time signs over the radio network, giving customers accurate expectations.

Tough Easier Planning
Planners can also use the data on actual running times and static times to justify changes and make schedules more realistic and effective. Feedback to dispatch, operators and supervisors helps to improve schedule adherence.

Traffic Signal Prioritization (TSP)
If your vehicles need to speed up or slow down, the Tait radio network allows you to control traffic lights. With a single button press, bus operators can keep moving at the perfect pace by changing traffic lights to meet their needs.

"The Tait solution provides data connection for Train Control Systems, allowing trains to travel safely and efficiently."

Mission Critical Voice
Storms, sporting events, accidents, parades, and other incidents can clog both the roads and the public cellular networks, making it difficult for transport organizations to communicate. Tait can provide a private, mission-critical voice and data network that won't fail you when you need it most. Stay connected to your people and your city when they're counting on your organization to keep them safe and keep them moving.

Connected like never before
Innovations like TAIT AXIOM Mobiles and Tait TeamPTT bring more people from your organization together. By allowing people to use the device of their choice and then automatically selecting the best available network, you can ensure your people stay connected.

Real-time data transmission
Real-time data transmission allows operators to quickly pinpoint routine problems and efficiently co-ordinate service recovery. Thanks to programmable function keys, a single button press from an operator can report anything from a double-parked car, a repairs request, or an emergency. By simplifying the user interface, bus operators can keep their focus on the road and help resolve interruptions at a quick pace.

Featured Client Story
National Express West Midlands - UK
Buses and control rooms across England's West Midlands receive transformational communications upgrades, as National Express West Midlands (NXWM) implement Tait Digital Mobile Radio (DMR) and TAIT AXIOM converged solutions for more than 1,500 buses in the region.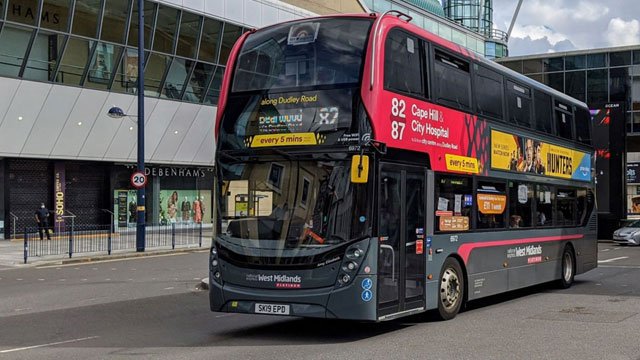 Traffic Signal Prioritization
Traffic Signal Prioritization (TSP) can save time, fuel and emissions. Wireless-enabled TSP technology keeps busses moving, therefore reducing engine idle time and pull-away emissions by allowing buses to maintain a steady speed. A reduction of just 10 seconds per kilometer can result in massive emission and passenger time savings.

Fewer sites for greater coverage
The DMR Tier 3 digital standard gives you excellent, wide-area coverage. In fact, when compared to Tetra, DMR Tier 3 requires fewer towers for the same coverage area. Compare coverage in our DMR vs Tetra white paper.

Quality in everything we do
Great care and craftsmanship goes into every stage of the Tait building process. We design, engineer, manufacture, install, and service our own equipment in-house. We love communication technology, and our passion shows in the quality of our RF performance. When you select Tait, you can rest assured that you're choosing a high-performing solution that will endure for years to come.

More Connectivity for Less
Tait TeamPTT provides a PTT over Cellular solution. This smartphone application connects your people to the Mission Critical network, allowing more users to join the network with devices they already own.


Reduced total cost of ownership
As organizations take a longer term view of their expenditure, total cost of ownership is a significant factor. Tait also takes a long term view, understanding that equipment is expected to last many years. Robust system design and implementation, along with excellent technical support, ensure your network will continue working for years to come.


Remote Programing and Monitoring
Thanks to the Tait Enable Suite of Management tools, our products can be remotely programed and monitored, reducing travel time on the road and increases efficiency. You'll be amazed at how much work you can do from your desk to keep your radio fleet up-to-date and operating at maximum efficiency.


Call availability
The safety of each worker in your transport organization depends on their ability to make and receive calls without delay when required. Tait services will work to ensure you have the maximum coverage in your area. Tait DMR and P25 networks are designed with multiple levels of redundancy to ensure maximum system uptime and include call availability features such as emergency calls, call priority, call timers and call queuing.


Call clarity
Your workers need more than just reliable voice calls to keep them safe - they need a radio system that delivers market-leading call clarity. Our advanced radio technology provides better noise rejection, and preserves voice quality to the edge of coverage. When emergencies occur, improved call clarity will buy your workforce precious seconds to respond.

Man Down and Lone Worker
Tait radios are equipped with Man Down, lone worker and GPS. Should an accident occur, dispatch will receive an alert and can send help immediately to the right location, ensuring help arrives as quickly as possible. By keeping track of your worker's locations, you can also prevent many accidents as well.

Tough, Intrinsically Safe portables
Our Tait Tough portables have been engineered to survive the extreme heat and demanding environments your transport organization might use them in. Our Intrinsically Safe portables are engineered to operate safely in hazardous environments, keeping your people safe while they get the job done.