TB9300 Base Station
The Tait TB9300 is an IP connected, digital base station for DMR Tier 2 (conventional) or Tier 3 (trunked) networks. Their functionality allows for flexible network designs and easy migration paths from analog networks to DMR. These spectrally efficient base stations provide a 6.25kHz equivalent operation using two TDMA channels in one 12.5kHz channel, giving you greater capacity now and providing a future path for expansion.

Smooth Migration
Tait has the best migration stories around. The TB9300 operates in multiple modes, including Analog Conventional, MPT-1327, DMR Tier 2, and DMR Tier 3. You can install the base station to operate on your existing network today, and then upgrade with ease when ready.

Receiver Performance
The TB9300 offers exceptional receiver performance and exceeds or matches all other DMR base stations on the market for sensitivity, selectivity and intermodulation performance. This means that the user gets extended talk-in (uplink) range as well as significantly increased resistance to interference for clearer, more consistent audio.

Operational Efficiency
The TB9300 provides operational efficiencies through remote network management and IP connectivity capabilities, which includes alarm monitoring and reporting, inbuilt diagnostics, and remote software downloads. It also supports packet data over traffic channels for Workforce Management, Telemetry, SCADA and other applications.

Security-focused
The remote network management is utilized with built-in secure https web server and SNMPV3 support. The TB9300 also offers enhanced security through password protection and access level control on the web server. Multiple user accounts with varying access can be maintained, and audit and system logs can be retained.

Resilient, reliable communications
To give you confidence in your communications in even the most challenging environments, the TB9300 is rated for continuous full output power and ensures continuity of operation with smart AC/DC management. With support for up to two base station software releases, it gives you the ability to roll-back software updates. Like all Tait products, it's built Tait Tough and meets relevant MIL-STD-810G test methods.

Easy to Maintain
The modular design of the TB9300 allows cost-effective deployment, maintenance, and upgrades. It is software configurable, including feature upgrades through software licenses, and software upgrades can add new features and functionalities to ensure that your DMR solution is kept up to date with the ever-changing needs of your organization's environment.

Customization
Control, customize, and enhance base station operations with TaskBuilder, by creating rules that extend the functionality of the base station. Rules can control channel changes, digital outputs, timers, and alarms, based on events and external signals.
Frequency Bands
VHF: 136-156MHz (B2), 148-174MHz (B3), 174-193MHz (C1) 50W only, 216-225MHz (C3) 100W only
UHF: 330-380MHz (G4) 50W only, 380-420MHz (H4), 400-440MHz (H1), 440-480MHz (H2), 400-470MHz (H5) 50W only, 470-520MHz (H3), Tx:440-480MHz,Rx:400-440MHz (HC) 50W only
700/800MHz: Tx:762-870MHz Rx: 794-824MHz (K4), Tx: 757-758MHz Rx:787-788MHz (K8) 100W only
900MHz: Tx: 927-941 MHz Rx: 896-902 MHz (L2) 100W only
Transmit power rating
100 W: Programmable 10-100 W (in 1 W steps)
50 W: Programmable 5-50 W (in 1 W steps)
Channel/Zones
1,000
Tait Tough
Military Standards for altitude, humidity, vibration and shock. Operating temperature of -22ºF to +140ºF (-30ºC to +60ºC).
Receiver Sensitivity
Analog Sensitivity -119 dBm @ 12 dB SINAD
DMR Sensitivity -122dBm (0.18μV) @ 5% BER
Dimensions
Dimensions (DxWxH)
15.8 x 19 x 7 in (400.5 x 482.6 x176.8 mm) 4U rack space
Discover more about TB9300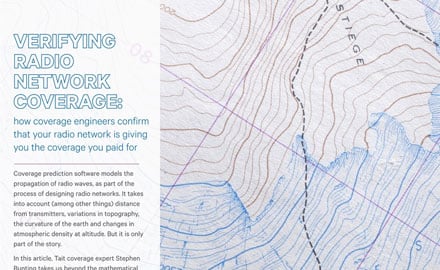 Verifying Radio Network Coverage
Go beyond the mathematical theory and find out how coverage engineers confirm that your radio network is giving you the coverage that you paid for.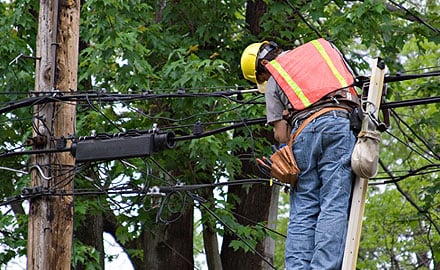 DMR Access and Express
Tait DMR Tier 3 delivers exceptional performance and reliability, centralized network management, improved worker safety and business efficiency, information integrity and operational security, as well as flexibility and scalability to meet your future needs. The Access, Express, and Express20 packages provide your organization with an easy, affordable path to DMR.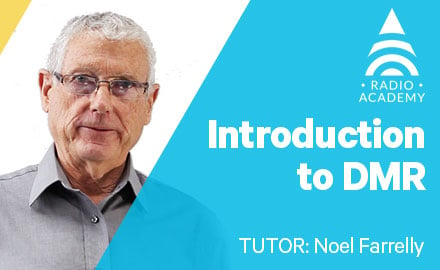 Introduction to DMR
Learn the basics and introduce yourself to DMR, one of the most popular standards in critical communications. This course is completely free and registered users can test their knowledge with a quiz.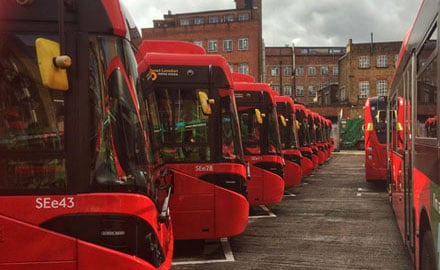 Transport for London
Transport for London (TfL) is one of the largest transport authorities in the world, with over 2 billion journeys made in their network each year. Since the early 2000s, Tait has provided communications solutions for Transport for London's surface fleet of around 9,300 buses, helping them keep Londoners moving.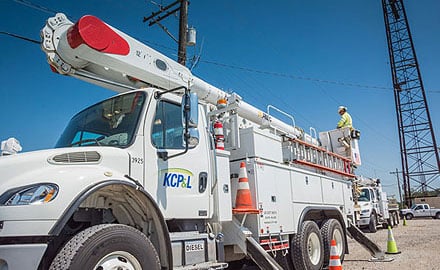 Kansas City Power and Light - MO USA
The 21-site VHF DMR deployment will utilize the TN9300 core network and support the use of 1,200 TP9300 DMR portables and TM9300 mobiles by KCP&L staff.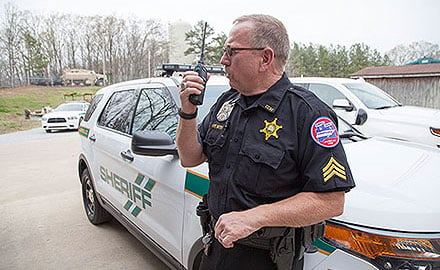 Carroll County, TN, USA
Carroll County is located in the state of Tennessee, USA. Covering an area of over 600 square miles, it has a population of over 28,000 people.