TN9400 Trunked Core Network
Tait P25 TN9400 trunked networks are IP-based digital systems specifically designed to provide P25 open standards compliant mission-critical communications over wide geographic areas. Our trunked networks are extremely resilient, with multiple levels of redundancy for reliable communications. For those seeking a single supplier for system supply and support, we can provide you with complete network maintenance and enhancement.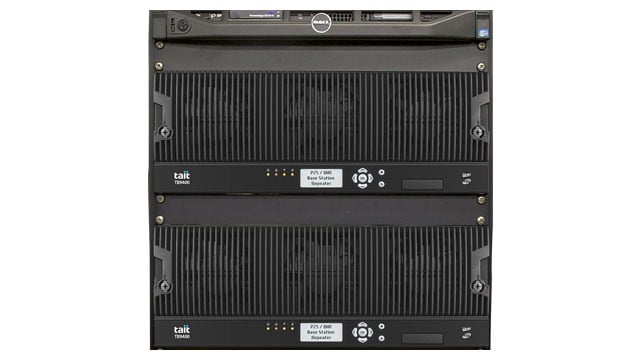 Why choose a TN9400 Trunked Core Network?

Flexible, cost-saving design
The TN9400 offers both P25 Phase 1 trunked and trunked simulcast operation, and supports P25 Phase 2 operation (with the TB9400). The trunked Analog Gateway (TAG) enables connection to legacy analog consoles. This provides a cost-effective infrastructure to meet your communication and operational needs now and in the future.

Cost-effective flexibility
The TN9400 supports remote management for greater operational efficiency. Data transmission is supported over a standards based IP data pipe. Maximum site spacing with Linear Simulcast Modulation (LSM) (used with the TB9400).

P25 standards compliant
The TN9400 follows the P25 open standards compliance, and allows expansion via P25 open standard interfaces: CSSI and ISSI.

Dependable, secure reliability
The TN9400 offers high availability for ensured continuity of network operation in case of server failure. It also supports end-to-end encryption for secure transmissions.
Modes of operation
Phase 1: P25 Phase 1, P25 Phase 1 trunked simulcast, P25 Phase 1 trunked LSM
Phase 2: P25 Phase 2 trunked, P25 Phase 2 simulcast
Interfaces supported
Phase 1: CSSI, ISSI, Trunked Analog Gateway (TAG)
Phase 2: CSSI
Fault tolerance
High Availability failover from primary to secondary server for hardware, software, and network failure. Disaster recovery node handover - manual activation. Isolated site (network failure). Switch to single site trunking at that site. Backup control channel. (Base station failure). Control channel allocated to a different base station.
Total number of radios supported
10,000
Number of sites/channels per site
Phase 1: Up to 28 physical sites distributed over up to 20 logical sites / 23 traffic channels per site, plus control channel
Phase 2: Up to 28 physical sites distributed over up to 20 logical sites / 12 traffic channels, with P25 Phase 1 control channel
Subscriber management
Add/remove single/multiple subscribers. Customize call type permissions. Add/remove multiple talk groups and add an announcement call group/system call group
Discover more about Tait P25 Solutions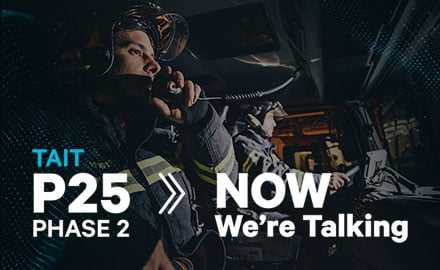 Tait P25 Phase 2: Far from Conventional
As your team grows, so should your spectral efficiency. Now it's easier than ever to migrate your system to provide more channels, trunked technology, superior audio quality, and much more. With Tait, you know you'll get the toughest radios, no hidden fees, and 50 years of industry-leading expertise.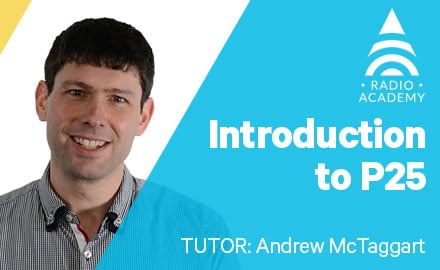 Intro to P25
The Tait Radio Academy hosts free, online courses about Critical Communications Course. The Introduction to P25 explains the basics of P25 and is perfect for people new to P25 or those looking for a refresher.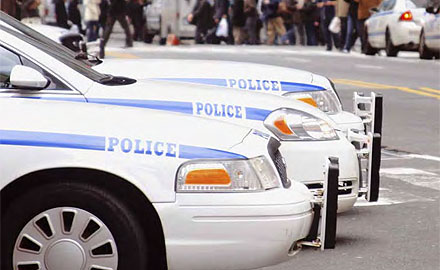 Tait P25 Phase 1 and Phase 2 Solutions
With lives at stake, you need to work with the industry leaders in unifying Public Safety communications. From a single P25 site to a nation-wide network, Tait will integrate all your technologies, including LTE and smart devices, into the core P25 solution to give you seamless communications and situational awareness.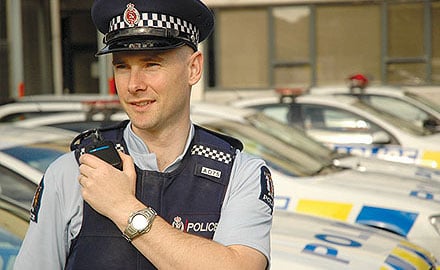 New Zealand Police, NZ
Read how a Tait P25 network provides secure, reliable, safety-enhancing communications for New Zealand Police's 10,000 staff around the country.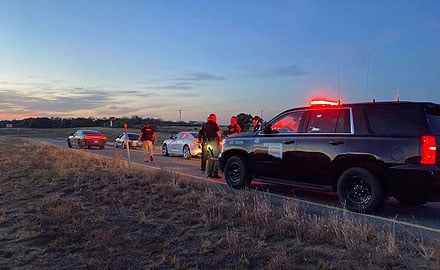 Oklahoma Department of Public Safety - OK USA
Oklahoma DPS is a multi-service safety and law-enforcement organization, with approximately 1500 civilian and uniformed employees across the state, including Oklahoma Highway Patrol. Highway Patrol's troopers are responsible for patrolling the state's 111,994 miles of city, county and state-maintained roads and highways.
Country Fire Authority, VIC
See how Tait worked side-by-side with the Country Fire Authority to create a customised communications solution that would meet the demanding mission-critical requirements of CFA firefighters, deliver long-term value for money, and provide the flexibility to adapt to future needs.