Tait P25. Instant, reliable communications is just the beginning
TP9400 Portables
The TP9400 P25 Phase 2 portable series gives you more efficient networks and more possibilities. With multiple operating modes, safety-enhancing features, and a rugged, robust design, the TP9400 is engineered to meet the demanding standards of the public safety industry.

Rugged, Tough Build
The robust, Tait Tough design of the TP9400 series offers IP65 and IP68 sealing and shock absorbing impact-protected corners, exceeds relevant MIL-STD-810G standards, and features a water-shedding grille which aids voice clarity in wet environments.

Cost-Effective Flexibility
With multiple operating modes including analog, analog simulcast IP, 12.5kHz P25 Phase 1 FDMA conventional/trunked, P25 Phase 2 TDMA trunked, and LSM (CQPSK) decode capability in a single device, you can transition to a more spectrally efficient solution in a time frame that suits you. The TP9400 series also operates in VHF and 700/800MHz frequency bands.

Improved User Safety
Safety is the top priority for Public Safety organizations around the world. Ensure the safety of your first responders with TP9400 capabilities such as clear voice, location services, Man Down & Lone Worker functionality, AES encryption capability, and radio inhibit and uninhibit to allow management of lost or stolen radios.

Increased User Efficiency
The TP9400 series offers features that help increase operational effectiveness, including voice and data, simulcast support and pre-set status messages.

True Interoperability for More Choices
Interoperability with adherence to the P25 standards gives your organization greater vendor choice and increased competition.

Simplified, Secure Management
The TP9400 series supports security-focused fleet management with Over-the-air Rekeying (OTAR) and Tait Key Fill Device (KFD) capabilities.
Frequency Bands
VHF 136-174MHz, UHF 400-470MHz, UHF 450-520MHz, 700/800MHz from 757-870MHz
Output Power
VHF: 5W, 3W, 2W, 1W
UHF: 4W, 2.5W, 2W, 1W
700/800MHz: 3W,2.5W,2W,1W
Channels/Zones
1,000 channels/50 zones
(2,000 channels/100 zones optional enhancement with software license)
Tait Tough
EMilitary Standards for high humidity, sand & dust, vibration, shock, rain, solar radiation, and more. IP68 & IP65 water and dust resistant. Operating temperature of -22ºFto+140ºF(-30ºCto+60ºC)
Receiver Sensitivity
Sensitivity (analog), 12dBSINAD: 0.22μV(-120dBm) in VHF and UHF, 0.22μV(-121dBm) in 700/800MHz
Sensitivity (P25), 5%BER: 0.22μV(-120dBm) in VHF and UHF, 0.22μV(-121dBm) in 700/800MHz
Dimensions
Dimensions (DxWxH)
With Li-Ion standard battery: 1.61x 2.56 x 5.35in (41x 65x 136mm) - excluding knobs
With Li-Ion standard battery: 1.77x 2.56 x 5.35in (45x 65x 136mm) - excluding knobs

Weight
With Li-Ion standard battery: 11.46oz (325g) - no antenna
With Li-Ion standard battery: 13.12oz (372g) - no antenna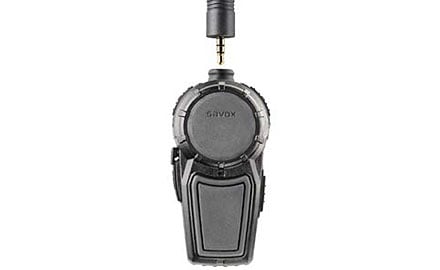 Savox Promate BT Com
Key Features
Wireless PTT for professional use
3.5mm Standard audio jack
IP55 Dust and water resistant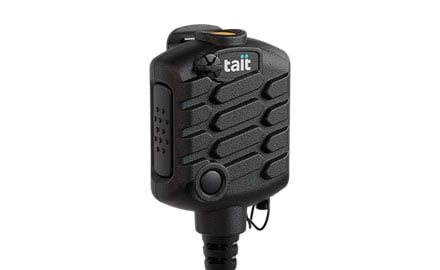 TSM4 Speaker Mic
Key Features
Rugged dust proof and water submersible (IP68)
Tait design water shed grille and microphone
Two glove friendly function buttons (programmable emergency button)
3W speaker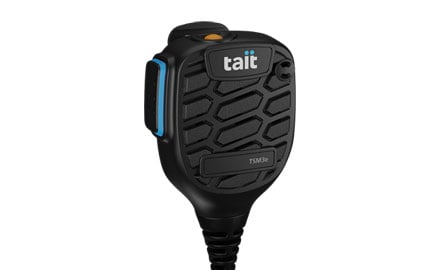 TSM3e Speaker Mic
Key Features
Dust proof and water submersible (IP67 rated with connector jack sealed)
Tait design water shedding grille and microphone
Function button (programmable emergency button)
Discover more about Tait P25 Solutions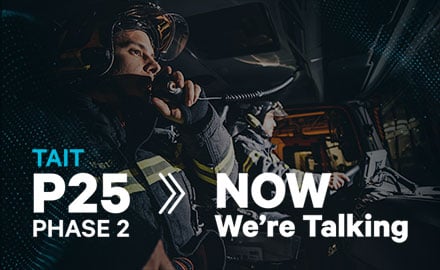 Tait P25 Phase 2: Far from Conventional
As your team grows, so should your spectral efficiency. Now it's easier than ever to migrate your system to provide more channels, trunked technology, superior audio quality and much more. And with Tait, you know you'll get the toughest radios, no hidden fees and 50 years of industry-leading expertise.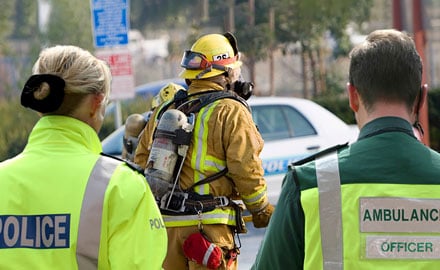 Why Use Multiband Radios?
The unpredictable nature of emergency situations has made real interoperability a critical goal in Public Safety communications for decades. In emergencies, the teams on the ground need to be able to communicate with each other to respond to evolving threats.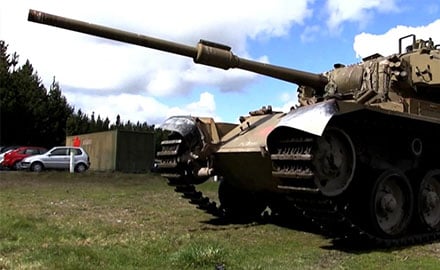 Tough Comms for Tough Jobs
Tait hardware and networks are built Tait Tough to withstand the challenges workers encounter anywhere – from protecting our communities to working on oil rigs.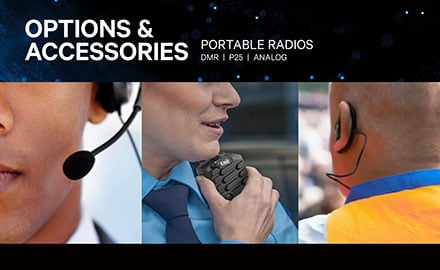 Tait Portable Radio - Options and Accessories Catalog
Take a look at the range of accessories available for Tait radios. This catalog includes detailed item descriptions and order codes to simplify purchasing specific accessories.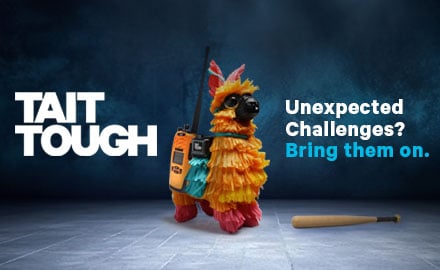 Tait Tough
The TP9000 series is built Tait Tough. Fire, water, tanks, drones and whatever else we could throw at it, even ice cream! Watch the Tait portable being put through its paces.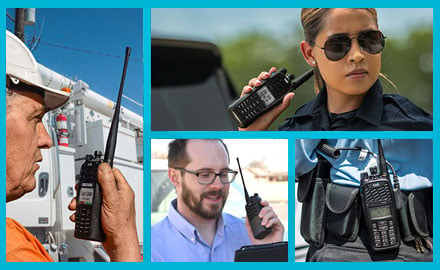 Portable Radio Selection Guide
The trusty portable radio has been an indispensable piece of equipment for workers in a range of industries for decades. As technology advances, so have the features available in these devices.

Madison County Fire Department - TN, USA
Madison County, Tennessee, USA, provides fire protection that covers 540 square miles. They also manage first-responder calls for EMS and other organizations.

County of Los Angeles Fire Department, CA, USA
The County of Los Angeles Fire Department provides fire protection and life safety services to more than 4 million residents in Los Angeles County, California.

New Zealand Police, New Zealand
The New Zealand Police (NZP) employs more than 10,000 staff around the country and uses a variety of vehicle types to police across a huge land area with different types of terrain.