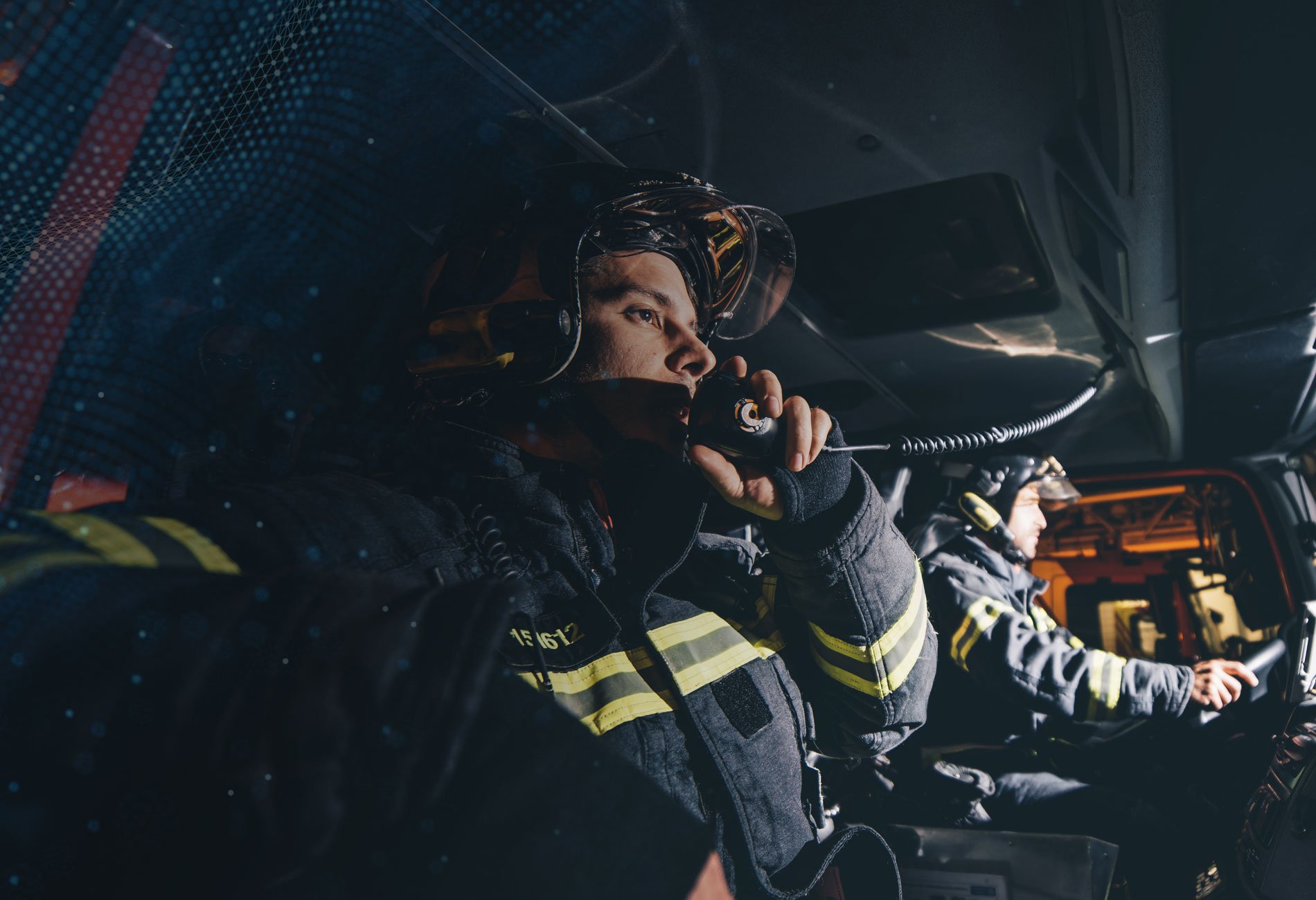 Tait P25.
Instant, reliable communications
is just the beginning
TM9400 Mobiles
The Tait TM9400 is a high-performing, flexible and robust mobile, designed for use in challenging environments while delivering high quality audio and intuitive operation to first responders around the world.

Improve user safety
To enhance user safety, the TM9400 series features Lone Worker, a covert microphone and stealth emergency modes as standard. Its rugged build with an IP54 rating, water-resistant control head, and exceeding relevant MIL-STD-810G mean that users can rely on it in extreme conditions.

Enhance efficiency
The TM9400 series supports efficient operations with encryption, voice and data, simulcast support and pre-set status messages. It can also be upgraded with TAIT AXIOM Mobiles, a platform which loads it with more connectivity, powerful new applications, and comprehensive APIs to increase productivity and safety.

Safe, secure communications
For operational security, the TM9400 supports end-to-end encryption (including AES), the Tait Key Fill Device (KFD) and Over-the-air Rekeying (OTAR).

Ease of migration
Each TM9400 features multiple modes of operation, including analog, analog simulcast IP, 12.5kHz P25 Phase 1 FDMA conventional/trunked, P25 Phase 2 TDMA trunked and LSM (CQPSK) decode capability. This supports easy migration to a more spectrally efficient solution when your organization is ready, while reducing risk. It also operates in VHF and 700/800MHz frequency bands.

Choice and interoperability
With adherence to the P25 standards, the TM9400 series offers your organization greater vendor choice, leading to increased competition and interoperability. It also supports flexible expansion via an options slot for additional capabilities.

Work your way
The TM9400 series allows you to work the way that suits you best. With multiple configuration options, upgradability to TAIT AXIOM Mobiles, software licenses for additional features, and programmable function keys, the TM9400 is an efficient addition to any organization.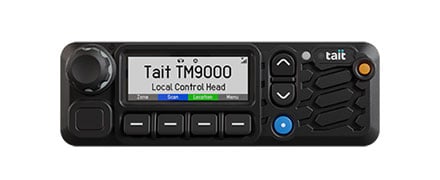 TM9455 TCH3: Local mount control head with speaker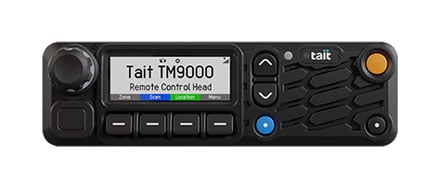 TM9455 TCH4: Remote control head with speaker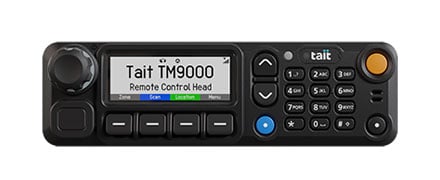 TM9455 TCH6: Remote control head with keypad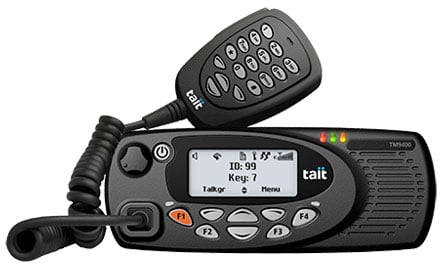 TM9455 Graphical Control Head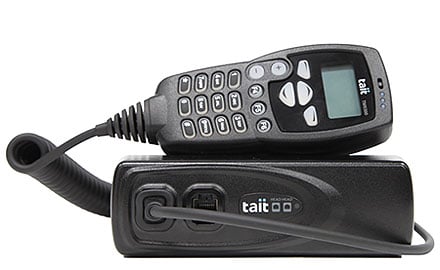 TM9455 Hand Held Control Head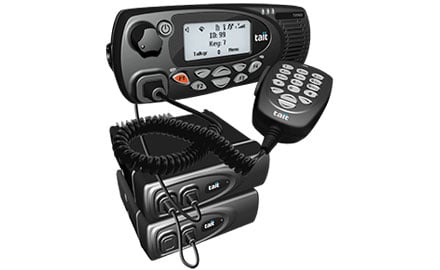 TM9456 Dual Band Single Head
Frequency Bands
VHF: 136-174MHz, UHF: 400-470MHz, 450-520MHz, 700/800MHz: 762–870MHz
Output Power
VHF: 25W, 12W, 5W, 1W; 50W, 25W, 15W, 10W
UHF: 25W, 12W, 5W, 1W; 40W, 25W, 15W, 10W
700/800MHz: [806MHz: 30W, 15W, 5W, 2W; ] 806MHz: 35W, 15W, 5W, 2W
Channels/Zones
1,000 channels/50 zones (2,000 channels/100 zones optional enhancement with software license)
Tait Tough
Military Standards for high humidity, sand & dust, vibration, shock, rain, solar radiation, and more. IP54 water and dust resistant. Operating temperature of -22°F to +140°F (-30°C to +60°C).
Receiver Sensitivity
Sensitivity, (analog) 12dB SINAD: 0.22μV (-120dBm) for VHF and UHF; 0.28μV (-118dBm) for 700/800MHz
Sensitivity, (P25) 5% BER: 0.22μV (-120dBm) for VHF, UHF and 700/800MHz
Dimensions
Body dimensions (DxWxH)
25W: 6.9 x 6.3 x 2.1in (175 x 160 x 52mm)
30/35/50W: 7.7 x 6.3 x 2.1in (195 x 160 x 52mm)

Discover more about TM9400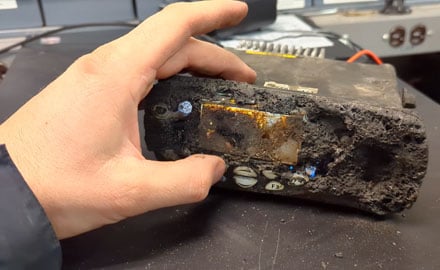 Tait Tough Radio Survives Vehicle Fire
Tait radios are built to withstand harsh conditions. We love when our customers share stories about Tait products surviving extreme punishment. This mobile radio was in a burning car, and still worked!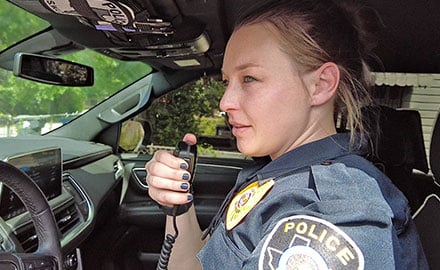 TAIT AXIOM Mobile Broadband
Multi-bearer connectivity, application processing at the edge, open standards programming on a mobile device.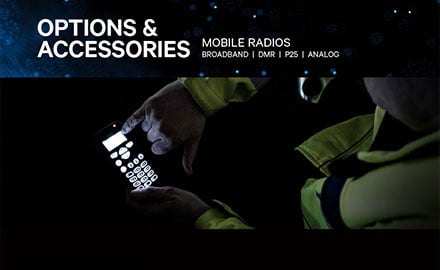 Tait Mobile Radio - Options and Accessories Catalog
Explore the range of options and accessories available for Tait mobile radios and solutions. This catalog includes detailed item descriptions and order codes to simplify purchasing specific accessories.
Our TM9400 Client Stories

Public Safety Network - New Zealand
Tait Communications and Kordia, in partnership, have won a contract to build and maintain a secure digital land mobile radio communications network across New Zealand, a key element of the Government's recently announced Public Safety Network (PSN).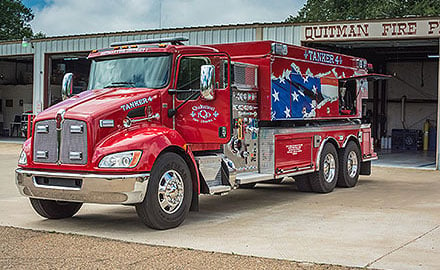 Quitman Fire District, LA
Quitman Fire District are the local fire department for Quitman, a small village located in the northwest corner of Jackson Parish, in the state of Louisiana, USA.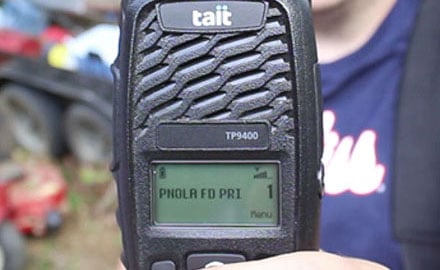 Panola County - MS USA
Tait Communications has successfully integrated its P25 9400 terminals with the Mississippi Wireless Integrated Network (MSWIN) system for Panola County.