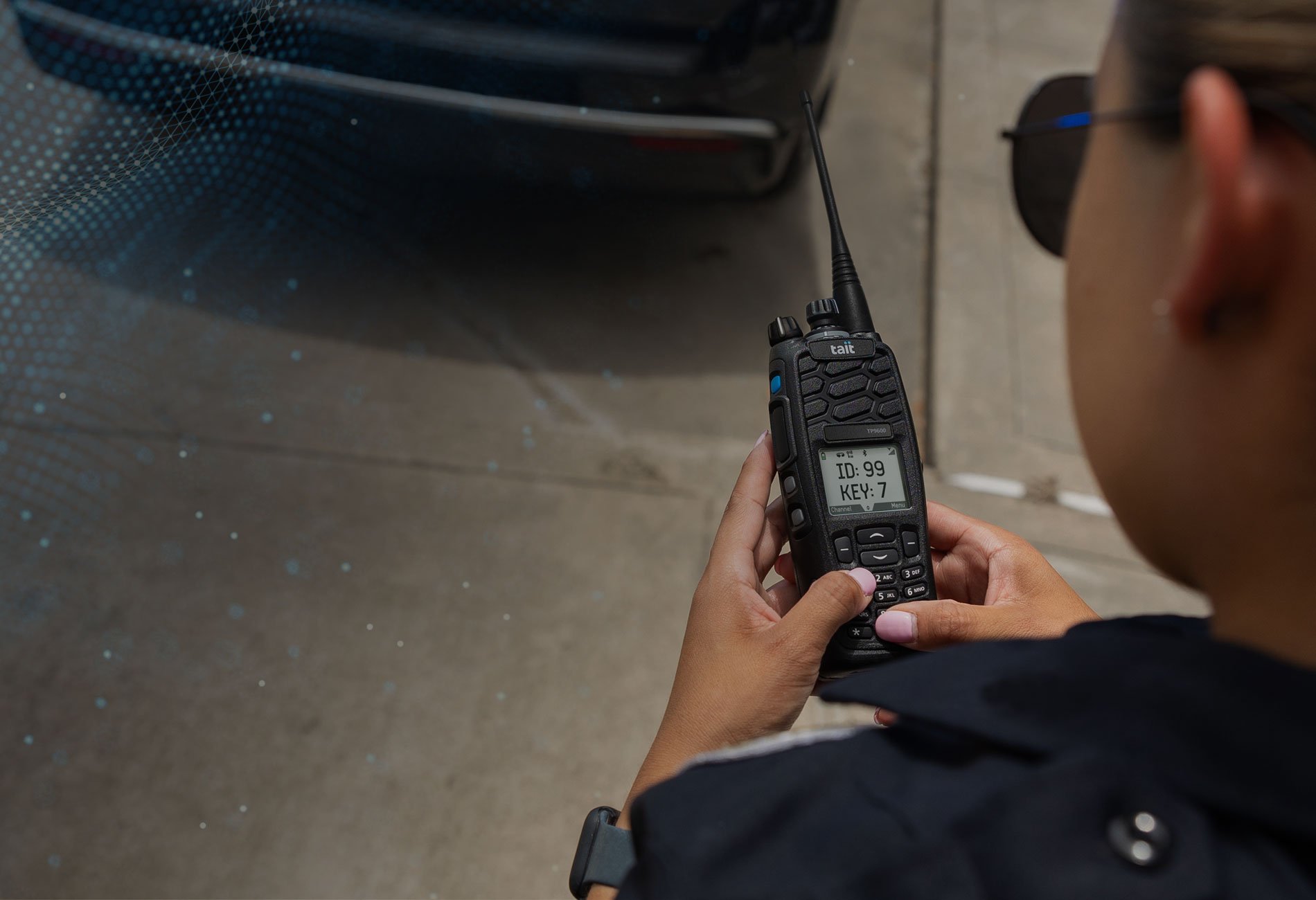 Tait P25. Instant, reliable communications is just the beginning
TP9600 Portable Radios
First responders around the world trust Tait for multi-agency coordination in the most challenging environments. TP9600 portables enhance the user experience with a color screen, louder, clearer audio, and more ergonomic controls, all built Tait Tough for critical communications. WiFi connectivity can be used for easy, advanced wireless programming and fleet management.

Available in 136-174MHz, 378-470MHz, 450-520MHz and 757-870MHz.

Connectivity Options
The TP9600 supports multiple modes. Analog Conventional, P25 Conventional, P25 Phase 1 Trunking, and P25 Phase 2 Trunking. This allows users to switch between different networks, and agencies to retain their radio fleet during network upgrades. WiFi capability allows wireless over-the-air-programming, and a range of audio accessories can connect via Bluetooth®.

Exceptional Audio
Clear voice communication is crucial in emergency situations. The TP9600's audio features help first responders hear and respond clearly. Active Noise Cancelation, uses two separate microphones to receive voice and background sounds separately, isolating and reducing noise. A P25 standard compliant digital vocoder digitizes human voice, reducing background noise. A powerful three watt speaker delivers incoming calls loud and clear.

Enhanced User Experience
The TP9600 includes a range of great quality-of-life features. The large, color screen has display options for bright or dark environments, and easily recognizable alerts. The interface is ergonomically designed to fit comfortably in the hand, for easy use. The Tait Enable suite of software takes the hassle out of managing your radio fleet.

Enhanced Worker Safety
Keep your team safe and connected in the field. The TP9600 features integrated GPS with advanced Location Services options. The Tait GeoFencing option helps your team to work smarter and safer with pre-programmed location based actions, like changing networks, or sending status alerts. Man Down and Lone Worker modes can trigger automated alerts when an individual is in potential danger. A Programmable Emergency Key can instantly request assistance.

Built Tait Tough
The TP9600 is built to withstand a lot of punishment. It's rated IP65 to withstand water jets, and IP68 for water immersion. The corners are built for shock absorption, exceeding military grade drop tests. The speaker features an innovative water shedding grille, quickly dispersing water.

Cellular Integration
Integrate users with smart devices into your radio network with Tait TeamPTT. This Push-To-Talk over Cellular (PTToC) solution provides operational and administrative staff with enhanced access to remote frontline workers. Connect radio, cellular and WiFi networks to increase safety and productivity across all users.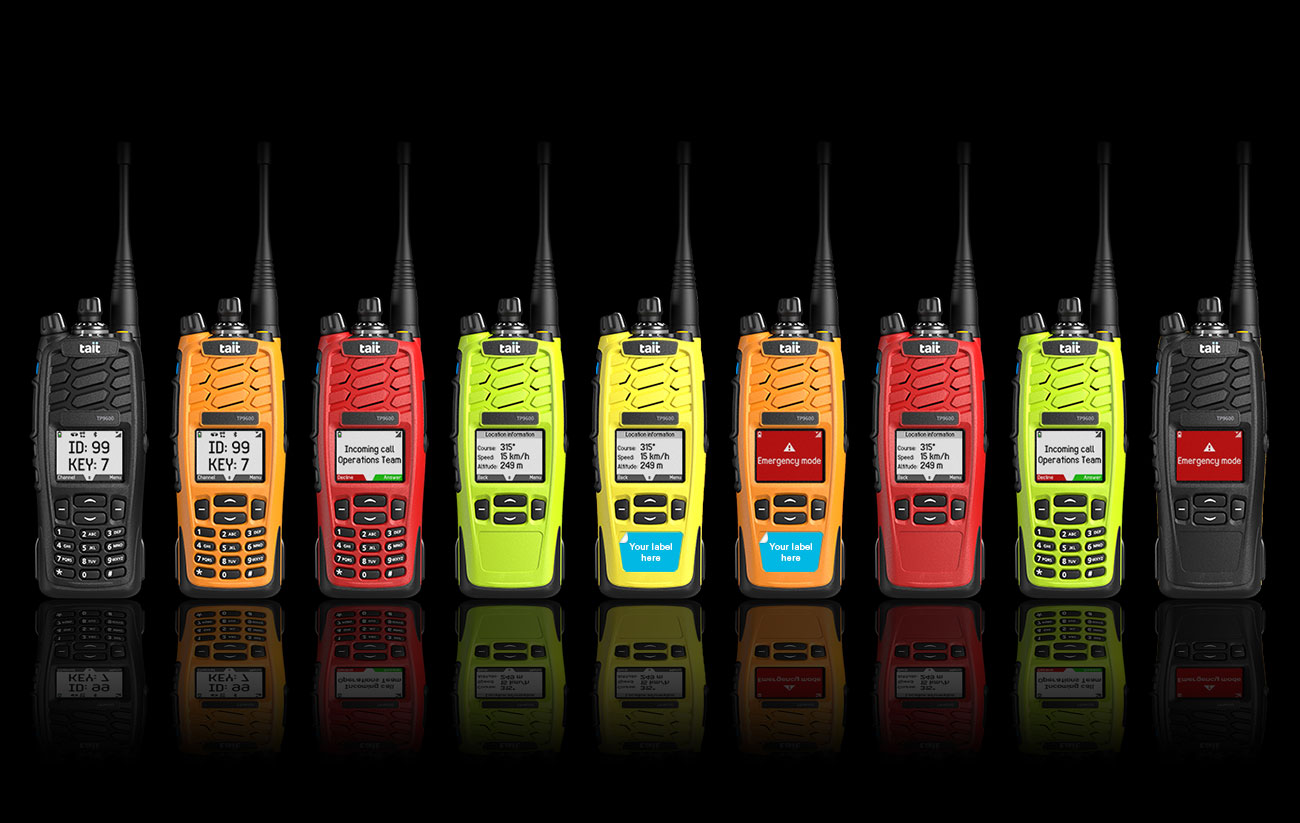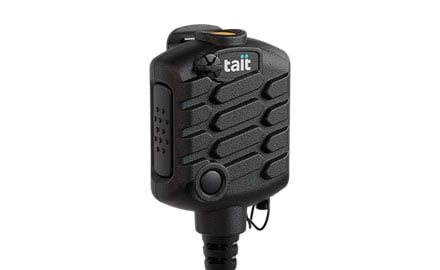 TSM4 Speaker Mic
Key Features
Rugged dust proof and water submersible (IP68)
Tait design water shed grille and microphone
Two glove friendly function buttons (programmable emergency button)
3W speaker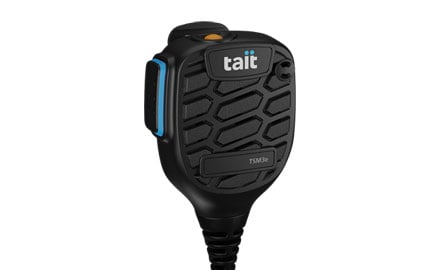 TSM3e Speaker Mic
Key Features
Dust proof and water submersible (IP67 rated with connector jack sealed)
Tait design water shedding grille and microphone
Function button (programmable emergency button)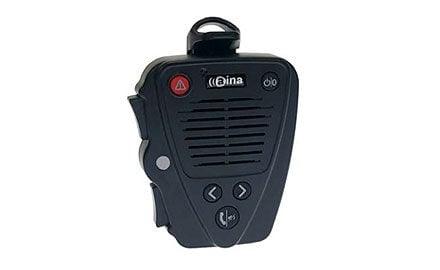 Aina PTT Voice Responder
Key Features
Covert mode option
IP67 dust and water resistant
Easy to use – simple Bluetooth pairing, two PTT buttons, 3.5mm standard audio jack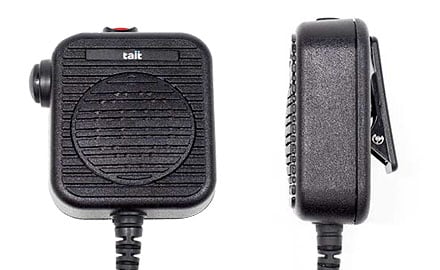 Genesis
Key Features
Fully sealed against water and dust penetration to IP68
Large snap-action PTT suitable for use with gloves
Emergency button with large notch for easier actuation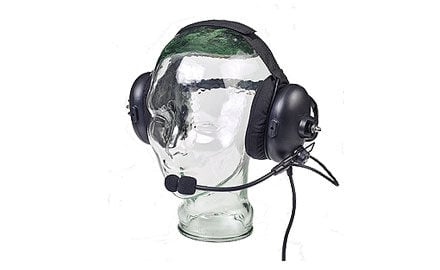 Heavy Duty Behind Head
Key Features
Designed for use with a helmet or hat
Discreet c-style headband for comfortable, stable fit
In-line PTT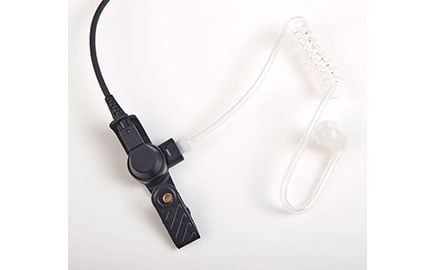 Earphone In-Ear
Key Features
2.5mm plug compatible with Evolution and Storm models
Designed to fit either the left or right ear
Quick disconnect earphone adapter for easy acoustic tube replacement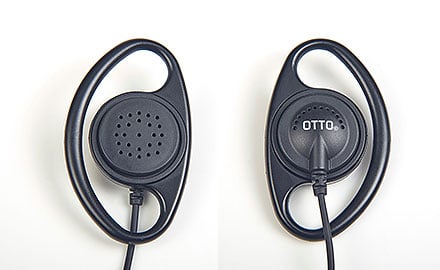 Ear Hanger
Key Features
Soft rubber ear loop with speaker
Rotational clip to fit either the left or the right ear
2.5mm connector
Discover more about TP9600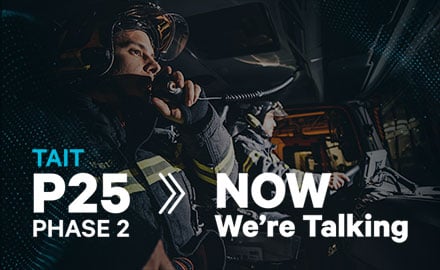 Tait P25 Phase 2: Far from Conventional
As your team grows, so should your spectral efficiency. Now it's easier than ever to migrate your system to provide more channels, trunked technology, superior audio quality and much more. And with Tait, you know you'll get the toughest radios, no hidden fees and 50 years of industry-leading expertise.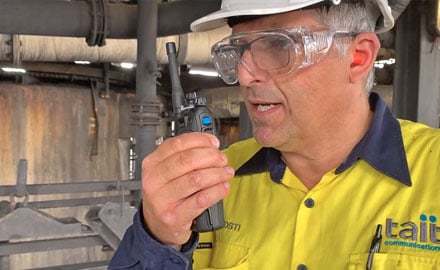 Active Noise Cancellation put to the test
Late last year, we released the new TP9600 radios to expand and improve our Tait Tough range. Alongside exceptional audio quality, enhanced worker safety tools and improved user experience, one of the standout features of these radios is Active Noise Cancellation (ANC). In this video, we see that in a real scenario.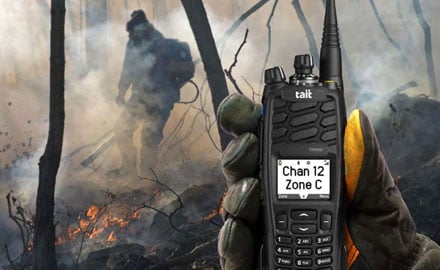 Why User Experience Matters in a Portable Radio
A portable radio should be easy to use, suited to your needs and working environment – a confusing interface is the last thing you want to worry about on an important job. For optimal safety and efficiency, it is crucial to consider how users interact with their portable radios in the challenging environments they operate in.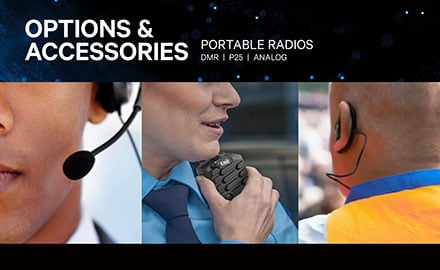 Tait Portable Radio - Options and Accessories Catalog
Take a look at the range of accessories available for Tait radios. This catalog includes detailed item descriptions and order codes to simplify purchasing specific accessories.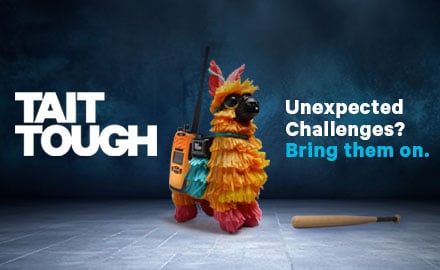 Tait Tough
Explore the range of options and accessories available for Tait mobile radios and solutions. This catalog includes detailed item descriptions and order codes to simplify purchasing specific accessories.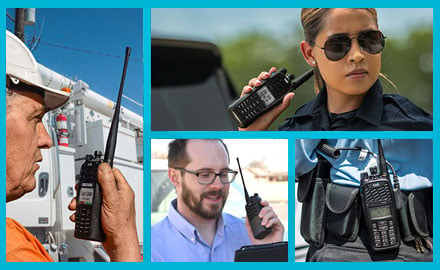 Portable Radio Selection Guide
The trusty portable radio has been an indispensable piece of equipment for workers in a range of industries for decades. As technology advances, so have the features available in these devices.